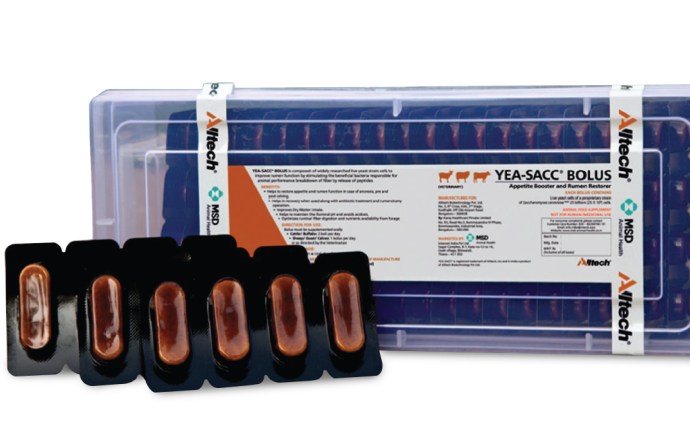 YEA-SACC® BOLUS is composed of widely researched live yeast strain cells of Saccharomyces cerevisiae 1026 to improve rumen function by oxygen scavenging, stimulating the beneficial bacteria responsible for animal performance & breakdown of fiber by release of peptides.
---
Benefits:
Helps to restore appetite and rumen function in case of anorexia, pre and post-calving.
Helps in recovery when used along with antibiotic treatment and rumenotomy operation.
Improves Dry Matter Intake.
Helps to maintain the Ruminal pH and avoids acidosis.
Optimizes ruminal fiber digestion and nutrients availability from forage.
Direction for Use:
Bolus must be supplemented orally
• Cattle/ Buffalo: 2 boli per day
• Sheep/ Goat/ Calves: 1 bolus per day or as directed by the Veterinarian
Storage:
Store in a cool, dry place.
ANIMAL FEED SUPPLEMENT
NOT FOR HUMAN/MEDICINAL USE