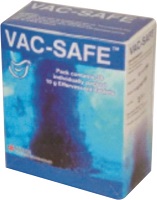 Used for adding to drinking water during drinking water vaccination of poultry. It neutralizes chlorine in the water, protects the efficacy of the vaccines.
---
Description:
Neutralizes chlorine levels in the drinking water.
Composition:
Each tablet contains:
De-Chlorinating agent (min)-1.25 gm
FD & C Blue I colorant (min)-1.50 gm
Vehicle q.s.p.- 10 gm
Direction for use:
Dissolve one tablet in 100 liters of water containing upto 5 ppm of chlorine. After adding the tablet, allow 15 minutes for complete dissolution of tablet and chlorine inactivation. After opening foil use contents immediately.
Benefits:
The product should be used in the animals' drinking water system in order to de-chlorinate the water. It removes chlorine and chloramines completely. The product has a blue food colorant which allows to see its distribution in the water system and to monitor the vaccine administration.
Presentation:
10 g tablets
Box of 30 individually foil packed tablets