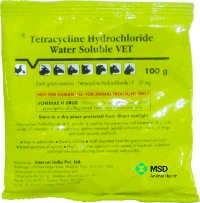 Each gm contains Tetracyclin Hydrochloride WS IP.50 mg. it is used as broad spectrum antibiotic.
---
Composition:
Each gram contains Tetracycline hydrochloride I.P. – 50 mg
Indications for use:
Large & small animals – Infections following operations, wounds, delivery, dystocia, retention of placenta, haemorrhagic septicaemia, anthrax, black quarter, calf pneumonia, calf diphtheria, scours, joint ill, strangles, contagious caprine pleuro-pneumonia, foot rot, acute mastitis, leptospirosis, acute metritis, pneumonia. Combat secondary infections associated with rinderpest, mucosal disease complex, Foot & Mouth Disease and canine distemper.
Dosage and Administration:
Large Animals: 2.5-5 gm /15 kg body weight
Small Animals: 1 gm/ kg body weight
Withdrawal Period:
Meat Cattle- 22 days, Milk- 7 days
Storage:
In a dry place protected from direct Sunlight
Presentation:
Sachet of 100 gm