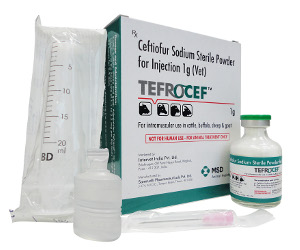 For intra muscular injection in cattle,buffaloes,sheep and goat.It can be used in lacteting dairy animals
---
For intra muscular injection in cattle,buffaloes,sheep and goat.It can be used in lacteting dairy animals
Composition:
Ceftiofur Sodium sterile powder equivalent to ceftiofur activity 1 g along with one ampoule of sterile water for injection IP.20 ml
Indications:
• Genital infections of bovine (acute metritis, cervicitis, prolapse related to retention of placenta cases,) associated with Arcanobacterium pyogens, Fusobacterium necrophorum and bacteroids spp.
• Respiratory diseases of cattle, buffalo, sheep and goat (Shipping fever, pneumonia) associated with Pasteurella haemolytica, Pasteurella multocida and Haemophilussomnus.
• Acute interdigital necrobacillosis (foot rot, pododermatitis) caused by Fusobacterium and Bacteroides.
Dosage and Administration:
Cattle, Buffalo, Sheep & Goat: 1.1 to 2.2 mg ceftiofur per kg body wt. by I/M route for 3-5 days.
Storage:
Store at cool and dark place, away from Sunlight.
Presentation:
1 g vial with 20 ml sterile water for injection, with disposable syringe and needle.
Withdrawal period:
Milk : 0 days
Meat: 4 days
Refer to Product Leaflet for more information.