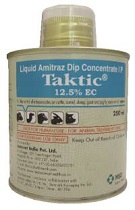 Each ml contains Amitraz I.P.(Vet) 125 mg. It is broad spectrum ectoparasiticide against ticks, mites, lice and keds.
---
Composition:
Each ml contains Amitraz I.P. 125 mg
Indications for use:
For prevention and control of ectoparasitic infestations like Ticks, Mange mites, lice as well as ked in Cattle, Camel, Sheep, Goats and Pigs. Taktic® kills ticks, mange mites and lice including strains resistant to organochlorines, organophosphates and synthetic pyrethroids.
Contraindications:
This product is not recommended for use on Horse, Cat & Chihuahua breed of dogs.
Dosage and Administration:
Taktic to be used as spray or dip
| | | |
| --- | --- | --- |
| Animal | Taktic®12.5%/ L ofwater for ticks | Taktic®12.5%/ L ofwater for mites (mange), lice and keds |
| Cattle/Camel | 2.0 ml | 2.0 ml |
| Sheep/Goat | 4.0 ml | 4.0 ml |
| Pigs | 4.0 ml | 4.0 ml |
Prepare spray on the day of treatment using clean water. Treat all infested and non-infested animals in a group at the same time.
Note : In severe cases of mange or lice a second treatment is recommended 7-10 days after the first treatment
Withdrawal Period:
Meat- 1 day for Cattle and Goat and 7 days for Pigs and Sheep Milk- 4 milkings / 2 days
Storage:
Store in original container tightly closed in a safe place away from foodstuff. Store protected from light
Presentation:
6 ml, 15 ml –Aluminum Bottle and 50 ml, 250 ml – Tin Container