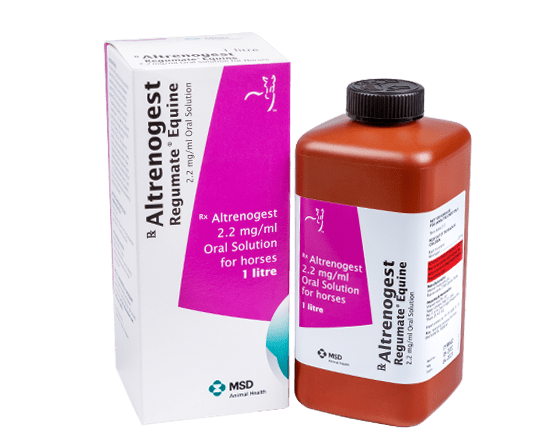 Useful tool to manage horse reproduction.
---
Equine 2.2 mg/mL oral solution for horses Each ml contains:
Altrenogest……………………………….. 2.2 mg
Indications for use
In mares with significant follicular activity during the transitional period between seasonal anoestrus and the breeding season (follicles of at least 20-25 mm present at the beginning of treatment):
Suppression/prevention of oestrus (usually after 1 to 3 days of treatment) during the prolonged oestrus periods occurring dur ing this period.
Control of the time of initiation of oestrus (approximately 90% of mares show signs of oestrus within 5 days following the end of treatment) and synchronization of ovulation (60% of mares ovulate between days 11 and 14 following the end of treatment).
METHOD AND ROUTE(S) OF ADMINISTRATION
For oral use.
1ml Regumate Equine per 50 kg bodyweight per day for 10 consecutive days.
WITHDRAWAL PERIOD
Meat and offal: 15 days.
Milk: Not permitted for use in lactating animals producing milk for human consumption
SPECIAL WARNING(S), IF NECESSARY
Not to be administered by pregnant women. Direct contact with the skin should be avoided
Storage
Store below 25 °C
Presentation
The product is packaged in brown opaque1000 mL HPDE bottle