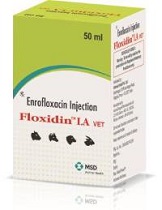 Each ml contains Enrofloxacin 100 mg, Benzyl alcohol 2% v/v. It is used treatment of systemic infections and soft tissue infections.
---
Floxidin™ LA (Vet)
Composition:
Each ml contains Enrofloxacin IP (Vet) 100 mg and benzyl alcohol 2% v/v
Indications for use:
Effective against Systemic infections (mastitis, metritis, pneumonia, gastrointestinal infections), Soft tissue infections (wounds, post-surgical recovery, supportive treatment in case of FMD)
Dosage and Administration:
Administer at the rate of 7.5-12.5 mg/kg body weight IM/SC as a single dose. If required repeat after 48-72hrs.
Withdrawal Period:
Milk- 84 hrs., Meat-14 days
Storage:
Store below 300C
Presentation:
50 ml
Refer to Product Leaflet for more information.