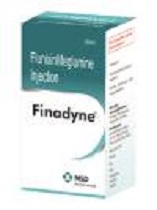 Each ml contains Flunixin meglumine 83 mg, equivalent to Flunixin 50 mg. It is used as fast acting most potent NSAID, manages endotoxemia and inflammation.
---
Composition:
Each ml contains:
| | |
| --- | --- |
| Flunixin Meglumine IP | 83 mg |
| Equivalent to Flunixin | 50mg |
Indications for use:
Cattle, Sheep, Goat, Camel: For the control of inflammation and pyrexia associated with mastitis, respiratory disease, endotoxemia and metritis.
Pigs: For use as an adjunctive therapy in the treatment of swine respiratory disease.
Horse: For the alleviation of inflammation & pain associated with musculo-skeletal disorder.
Dogs: To alleviate fever, inflammation, endotoxemia or sepsis.
Dosage and Administration:
Cattle, Sheep, Goat and Camel: 1.1 mg to 2.2 mg Flunixin per kg body weight or 1 to 2 ml of Finadyne™ injection per 45 kg body weight given by slow intravenous or intramuscular administration.
The total dose should not exceed 2.2mg/kg of body weight. Repeat if necessary at 24 hours intervals up to 5 consecutive days.
The recommended dose for bovine mastitis is 2.2mg/kg body weight given once by slow intravenous administration or intramuscular. Repeat if necessary at 24 hours intervals up to 5 consecutive days.
Withdrawal Period:
Cattle- Milk – 24 hours after last treatment, Meat – 5 days from the last treatment,
Pig: Meat – 22 days from last treatment
Storage:
Store below 25° C
Presentation:
20 ml & 100 ml glass vial
Refer to Product Leaflet for more information.