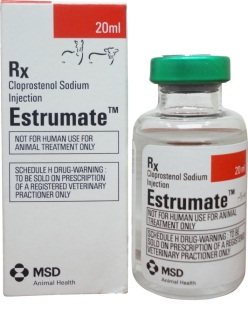 Each ml contains 263 mcg of Cloprostenol sodium, equivalent to 250 mcg cloprostenol used in the induction of luteolysis in dairy cattle and horses.
---
Composition:
Each ml of Estrumate™ contains 263 mcg of cloprostenol sodium, equivalent to 250 mcg of cloprostenol
Indications for use:
Cattle:
Estrus Synchronization
Treatment of non-detected estrus associated with a functioning of persistent corpus luteum, chronic endometritis/pyometra and treatment of ovarian luteal cysts
Induction of parturition
Termination of pregnancy
Horses:
As an aid to stud management
Treatment of conditions associated with a functioning persistent corpus luteum
Contraindications:
Estrumate™ should not be administered to pregnant animals unless the objective is to terminate the pregnancy. Do not use in the animals with spastic diseases of the respiratory or gastrointestinal tract.
Dosage and Administration:
Cattle: 2 ml by Intra muscular route
Ponies: 0.5-1 ml by Intra muscular route
Throughbreds, hunters and heavy horses 1.0-2 ml by Intra muscular route
Withdrawal Period:
Milk- zero days, Meat- zero days
Storage:
Do not store above 25°C
Presentation:
20 ml vial
Refer to Product Leaflet for more information.