BIOPLEX® HIGH SEVEN BOLUS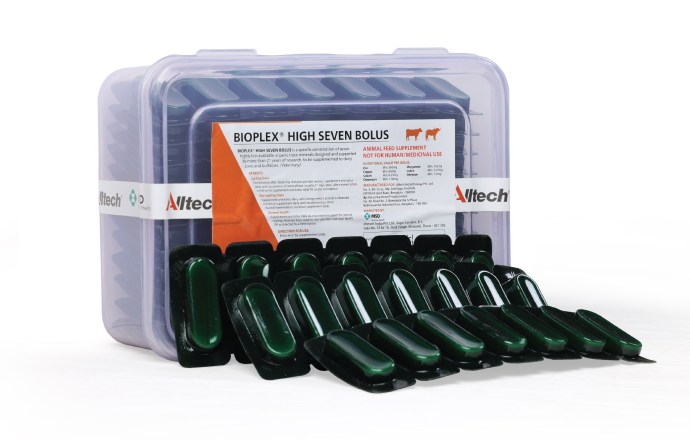 BIOPLEX® HIGH SEVEN BOLUS is a specific combination of seven highly bio-available organic trace minerals designed and supported by more than 21 years of research, to be supplemented to dairy cows and buffaloes. (Veterinary)
---
Nutritional Value Per Bolus:
Zinc Min. 360mg; Copper Min. 60mg; Cobalt Min. 6.25mg; Chromium Min. 1.68mg; Manganese Min. 143mg; Iodine Min. 14.5mg; Selenium Min. 1.5mg
Benefits:
Cycling Cows:
Immediately after observing the first post-partum oestrus, supplement one bolus daily until the occurrence of the second heat (usually 21 days later). After insemination, continue to supplement one bolus daily for better conception.
Non-cycling cows:
Supplement one bolus daily until strong oestrus activity is observed. Continue supplement daily until the second oestrus. Once mated/insemination, continue supplement daily.
General Health:
Supplement one bolus daily minimum for 7 days as nutritional support for wound healing, recovery from mastitis, skin disorders, and hoof health.
OR as directed by a Veterinarian.
Direction for Use:
Bolus must be supplemented orally.
Storage:
Store in a cool, dry place.
Net Weight: 5 gm per Bolus (when packed)
ANIMAL FEED SUPPLEMENT
NOT FOR HUMAN/MEDICINAL USE