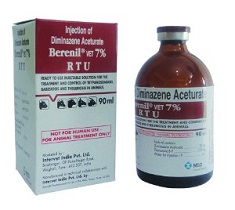 Each ml contains Diminazine Aceturate 70 mg, Phenazone B.P. 375 mg. It is used as treatment and control of Babesiosis, trypanosomiasis and theileriosis.
---
Composition:
Each ml of Berenil® Vet 7 % RTU contains:
Diminazene aceturate : 70.0 mg
Phenazone BP : 375.0 mg
Water for injection q.s. to 1 ml
Indications for use:
For the treatment and prophylaxis of Trypanosomiasis, Babesiosis, Theileriosis, Pyrexia of unknown origin and mixed haemoprotozoan infections.
Dosage and Administration:
Preferable route of administration is deep intramuscular or subcutaneous at the side of the neck.
Babesiosis and Trypanosomiasis: 5-10 ml/100 kg body weight.
Tenacious Trypanosomiasis: 10 ml/100 kg body weight
Theileriosis and mixed infections: 5-10 ml/100 kg body weight
Total dose should not exceed 56 ml.
Withdrawal Period:
Meat- 20 days, Milk- 3 days
Storage:
Store in a cool, dark place and should be protected from direct sunlight
Presentation:
Glass vials of 20 ml, 30 ml and 90 ml