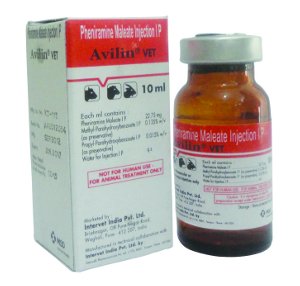 Each ml contains Pheniramine maleate 22.75 mg. It is used for quick relief from allergic manifestations.
---
For quick relief from allergic manifestations
Composition:
Each ml of Avilin® Vet contains:
Pheniramine Maleate IP: 22.75 mg
Indications for use:
Itching of unknown genesis and of various localization, eczema, dermatitis, urticaria, skin oedema, insect bites, photodermatitis, rhinitis, tail eczema in horses, stomatitis, toxic hoof corns and inflammation of the hooves of cattle, paresis during pregnancy, puerperal toxemia and secondary retention, pulmonary oedema in cattle, pulmonary emphysema in horses, toxic hypopepsia.
The efficacy of Avilin® has also been demonstrated in drug allergies, anaphylactic shock, laminitis, bloat in ruminants due to histamine atony of the rumen and in the treatment of acute septic metritis in cows in conjunction with anti-bacterial therapy.
Dosage and Administration:
Avilin® Vet may be administered intramuscularly or intravenously.
Large animals: 5-10 ml or more
Small animals: ½ -1 ml or more
Injection may be repeated after 8-12 hours, if necessary.
Withdrawal Period:
Meat-7 days, Milk- 2 days
Storage:
Store Protected from light
Presentation:
Vial of 10 ml, 33 ml
Refer to Product Leaflet for more information