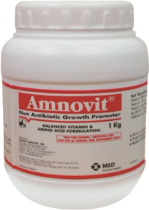 Balanced formulation of vitamins and amino acids act as a non antibiotic growth promoter for poultry.
---
Description:
Amnovit is a scientifically balanced formulation of vitamins and amino acids as a non-antibiotic growth promoter.
Composition:
Each 100 g contains: Vitamin A-500000 I.U., Vitamin D3 -29000 I.U., Vitamin E-200 mg, Vitamin B2- 300 mg, Vitamin B6-60 mg, Vitamin B12 – 400 mcg, Vitamin K3-40 mg, Niacinamide-1.32 g, Calcium pantothenate-440 mg, Folic acid-10 mg , Choline chloride -150mg, L-Lysine- 1 g, DL-Methionine- 2g, L-Tryptophan- 20mg, Excipient q.s.
Benefits:
Helps to improve: Performance/ hatchability in breeders, egg Production in layers, weight gain in broilers, resistance to infections, growth rate.
Helps to alleviate stress.
Helps to support as vitamin and nutritional supplement for general upkeep of health and productivity.
To maintain normal metabolism.
Dosage and Administration:
Amnovit should be administered at the rate of 1 gm per litre of drinking water for 4 days a week in Poultry. A plastic measure equivalent of 5 gm is provided with the pack. Amnovit is first to be made into a paste and to be dissolved in water. Amnovit can also be made into a premix and then mixed in feed.
Storage:
Store in cool & dry place. Protect from light.
Presentation:
250 gm, 1 kg